Video Marketing: Why It's Essential for Small Businesses
Video marketing has become a crucial tool for small businesses to engage with their target audience in today's fast-paced environment. The ability of video content to entertain, inform, and engage viewers makes it an excellent tool for boosting sales and brand recognition. The following are a few advantages of video marketing for small businesses. Small businesses may engage with their consumers and raise brand awareness by using video marketing. Businesses can utilize videos to highlight their goods and services, inform their consumers, and boost engagement rates due to the increase in the consumption of video content. We'll look at the advantages of video marketing for small businesses in this blog post.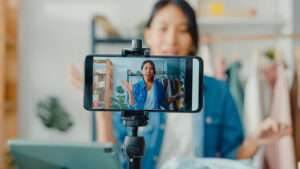 Increased Engagement Rates
Video content is very captivating and can immediately captivate your audience. Compared to text or pictures, a video can deliver a story more effectively and be more memorable. 54% of consumers, according to Hubspot, want to see more video content from businesses they like. Small businesses can improve engagement rates and forge closer ties with their target market by producing video content.
Improved Search Engine Rankings
Including videos on your website can boost your search engine rankings because search engines adore video material. Videos can help visitors stay on your website longer, reducing the bounce rate. More people are likely to convert the longer they stay on your website. You may increase your chances of appearing higher on SERPs by optimizing your video material with pertinent keywords and tags.
Increased Brand Awareness
Brand recognition can be increased through the use of video material. You can present your brand to a larger audience by making videos that highlight your goods or services. Additionally, you may use video content to tell your brand's story and strengthen your audience's emotional bond with you. Your audience will be more likely to recognize and remember your brand if your films have a consistent brand voice and visual aesthetic.
More Shareable Content
Because video content is so easily shared, it helps expand the clientele for your small business. Social media sites like Facebook, Instagram, and Twitter all support and give priority to their algorithms for video content. You can raise the likelihood that people will share your material by making shareable films, which may boost sales, website traffic, and brand exposure.
Increased Conversions
Small businesses can improve conversions by using video content. Hubspot claims that including a video on a landing page can boost conversion rates by 80%. You may raise conversion rates by producing videos that highlight your goods or services and show how they can benefit your clients. To help clients better understand your products or services, you may also utilize video to create explainer movies, testimonials, or how-to videos.
Improved customer education
Your customers can learn a lot about your goods or services from videos. You can assist your clients in understanding how the function of your product and how they can benefit them by producing how-to videos or product demos. Sales can rise as a result, and customer happiness can be enhanced.
Cost-effective
Marketing with videos doesn't have to be pricey. It's now simpler than ever for small businesses to produce high-quality movies thanks to the popularity of smartphones and reasonably priced video equipment. Additionally, social media websites like YouTube and Instagram give companies a free platform to broadcast their videos and get in front of a bigger audience.
In conclusion, video marketing has evolved into a crucial tool for connecting small businesses with their target market. Small businesses may enhance engagement rates, boost search engine rankings, build brand awareness, boost conversions, and reach a wider audience by producing interesting, shareable, and educational video content. Start producing videos for your small business right away!